Diary of a Wimpy Kid
Written by Jeff Kinney
Illustrated by Jeff Kinney
Reviewed by Daniel V. (age 8)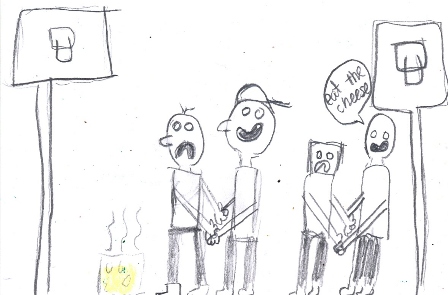 If you like funny books this is the book for you. Diary of a Wimpy Kid is about a kid who has a hard time in middle school. The Wimpy kid's name is Greg Hefley. Greg has problems every second of his day. Greg has a little brother Manny and an older brother Rodrick. Greg hates his older brother and his tattle tailing little brother. Greg likes to take the easy way out of everything. Read the book to find how Greg takes the easy way out.
I love reading these books they are so funny. I also like the illustrations, they help you understand the story. My favorite part was when Rowley ate the stinky cheese and didn't tell anybody. I love secrets. My favorite character is Gregory. He is the main character and all the funny things happen to him.
I recommend this book to kids who have problems in school and with their siblings. Kids 8 and up will love this book.
If you really like this book, you will be happy to know there are more Wimpy Kid books written by Jeff Kinney.