Animal Ark Hamster in the Holly
Written by Ben M. Baglio
Reviewed by Hannah L. (age 8)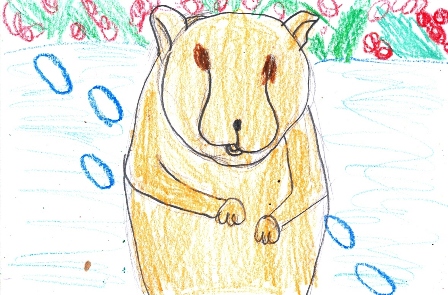 This is the day! Mandy, James, and their class are putting on the Little Mermaid, the show for the holidays. Mandy and James are best friends and they both really like animals a lot. Mandy's parents are both vets at the Animal Ark Clinic. In this book her new next door neighbors have hamsters. Her next door neighbors bring their hamster Honey to the show. Suddenly, in the middle of the show Honey's gone! She's last seen jumping out the window into the snow. Read this book to see what happens next. There are 130 pages of exciting adventure in this book.
I like this book because I like animals and hamsters. I like the part when they found the Hamster in the tree, because I like when good and happy things happen. This book is part of the Animal Ark series. It is similar to the other books in this series. It has the same loyal characters and the animals always make it.
I recommend this book to people who like animals and adventure. If you do, Mandy and James are great people to hang out with and be friends with. Go on this adventure with Mandy and James. This book is also for people who like to learn about animal facts in a story-like way. I recommend this book for kids in grades 3-6.
I couldn't take my eyes off this book. I hope you read it!