Anne Frank, The Diary of a Young Girl
Written by Anne Frank
Reviewed by Gabriel C. (age 9)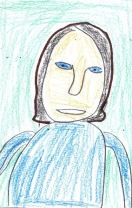 Have you ever felt scared out of your mind? If you have, you'll understand how Anne Frank felt living a life in hiding. This book is about a 13 year old girl who is hiding from the Nazis. Anne and her family live in a secret Annex. She lives in there because she is a Jew and does not want to get caught by the Nazis. You find your way into the attic by pulling a book out of a book shelf which leads to a secret passage way. The Dutch police find out that Anne and her family are hiding. The Dutch police go to the office building and force one of the workers to tell them where Anne's family is hiding. They are caught and are sent to concentration camps. Do you think Anne's family survives? You need to read this book to find out.
I felt sad reading this book, but I am glad I read it. I did not like that Anne was sent to the concentration camp. I felt nervous and fightened when she was caught. I really liked the characters who helped Anne in the secret Annex, it made me feel hopeful that people can be kind. My favorite part is when Anne Frank's Diary is published in 1947, because now I have a window into the life of a real person who lived through this period of time during WWII.
I recommend this book to anyone who likes to read biographies, history and about heroes like Anne Frank. Without her diary we would not know what life was like for a Jewish family in hiding during the holocaust.