Harry Potter and the Chamber of Secrets
Written by J.K. Rowling
Illustrated by Mary Grandpre
Reviewed by Max H. (age 9)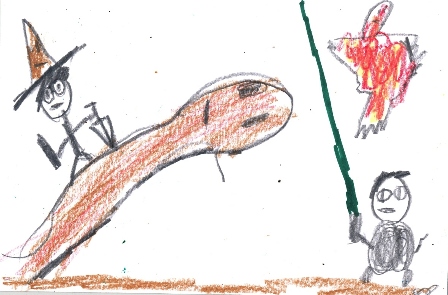 Do you believe in magic? Well if you do this is the book for you. In this book you will have a chance to experience what it is like to attend "Hogwarts" with Harry Potter. Harry has many adventurers with Ron and Hermione.They have to figure out a 50 year old deadly mystery.The story ends with Harry battling a giant serpent in the depths of the awesome and terrible Chamber of Secrets.
Interesting fact-Harry finds out that he can speak "parseltongue" (he can speak to snakes) and that's not a good thing….you'll have to read the book to find out why.
I love reading the Harry Potter series of books. Every book goes deeper into the lives of Harry and his friends. I am most like Harry Potter, because I like to solve mysteries and help people. My favorite part was when Harry and Ron go into the girls' bathroom where a girl has died and find the Chamber of Secrets! It was so cool how the Chamber of Secrets was in the bathroom. I definately didn't expect that.
I think kids from age 8 -88 who love magic and suspense will love to read this book. I love this book because it has so much action and it kept me guessing. I plan to read all of the Harry Potter books. I think you should too!