Diary Of A Wimpy Kid: The Last Straw
Written by Jeff Kinney
Illustrated by ChadW.Beckerman
Reviewed by Michael Z. (age 8)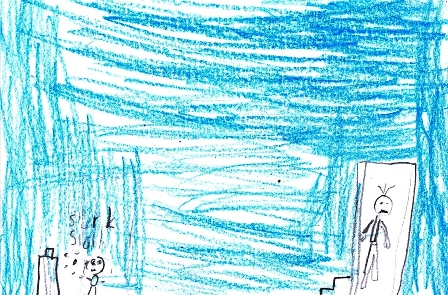 This is Whimpy Kid is the third in a series. This story is mainly about a kid named Greg and his weird life. Greg is in middle school and his mother is forcing him to keeop a diary. He writes and draws everything that happens to him. He has two brothers. His younger brother's head is shaped like a buck toothed alligator. Greg's older brother Rodrick always bullies Greg. You'll have to read the book to find out how they get along together.
I love when Manny says funny and weird words that annoy Greg. In the middle of The Last Straw, Manny keeps saying "ploopy" to Greg until Greg feels like his head will explode. I really love the illustrations; the pictures are drawn odd but funny. The Whimpy Kids series is fun to read. My favorite character is Greg because he has a good sense of humor. No other character has his humor.
I recommend this book to kids with a good sense of humor. You will laugh out loud. If you don't like to read, you will once you start reading these books.