Diary of a Wimpy Kid
Written by Jeff Kinney
Illustrated by Jeff Kinney
Reviewed by Zack Z. (age 9)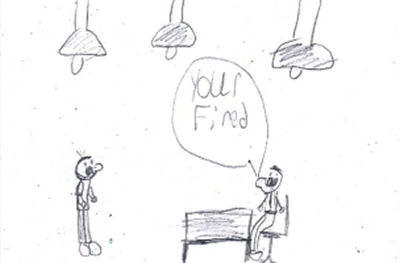 "First of all this is a journal not a diary." That's what Greg says in Diary of a Wimpy Kid. This book is about a kid named Greg who makes comics in the newspaper, but people get bored of Greg's comics and he stops making them. The characters are Greg, Manny and Rodrick (Greg's brothers), and Rowley and Fregley Greg's two best friends.
I enjoy reading these books for a lot of reasons. I like that they are long and they take a while to read and I love that they are funny. My favorite part is when on "Halloween Greg" goes in the haunted house and gets chased by the chainsaw hockey mask guy. It was hysterical how he got chased all over the place. I also like Greg alot.I understand how he feels. I too get upset when my sister doesn't listen to me, like Greg. He gets upset when Manny doesn't listen to him.
If you like comedy this is the book for you. I recommend this book to ages 8 to 12. This book was voted a New York Times best seller and it is currently a major motion picture.