Bailey School Kids: Aliens Don't Wear Braces
Written by Debbie and Marcia Thorton Jones Dadey
Reviewed by Nita M. (age 9)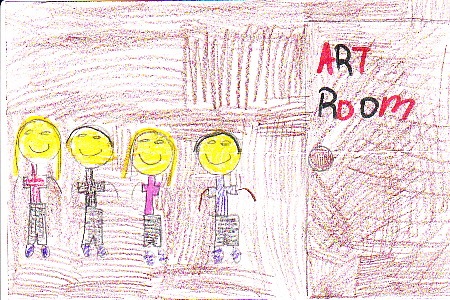 Do you believe in Aliens? If you do, you should read this book. Two girls named Liza and Melody and two boys named Eddie and Howie have an art teacher go missing at their school. They need a substitute! When Liza's class goes to art, they find out that Ms. Zork, the new art teacher, is very different from other teachers in the school. Anytime Ms. Zork touches anything it turns black and white (like she sucked out all the color). At the end of the story they find out Ms. Zork is an alien and send her back to space!
My favorite part in the story was when Ms. Zork goes back to space because she was a weird teacher. My favorite character in the story was Ms. Zork. I like Ms. Zork because she is an alien! I thought the book was scary at first because some of the words they used to describe Ms. Zork were scary. By the end, I was not scared anymore.
I would recommend this book to 3rd grade and 4th grade students because they might believe aliens are real. They also might have a weird teacher themselves.