The Bomb
Written by Theodore Taylor
Reviewed by Jon R. (age 10)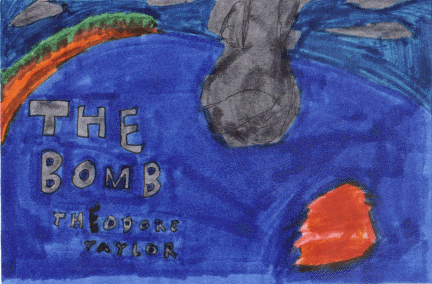 The Bomb is about a kid named Sorry. Sorry lives on an island in the Pacific called Bikini. Bikini is an island part of an atoll called Bikini Atoll. Sorry lives with his mom, sister, and grandparents during the end of World War II. When they hear about the atomic bomb that exploded in Nagasaki and Hiroshima, they got really spooked about the outside world.
One day, Sorry was alone on a beach following a tradition, when an albatross soared over the lagoon and moaned. This was a warning! His grandfather told him a long time ago when he saw an albatross moan, a typhoon hit several days later. Nothing much happened in Bikini for years until Sorry's uncle arrived, carrying with him some far-away medicine.
One month later, something bad happened. The Bikinians learned that the Americans wanted to blow the atomic bomb on the island for tests. The Americans say they will return the island the way it was but Sorry's uncle knows better. The Bikinians leave and settle in an island called Roderick. Sorry's uncle plans to save the island with a plan to sail a red boat to see that people are still there but he dies before that from heart disease.
Sorry plans to save the island himself. But when the island's teacher finds out, she too plans on going. Before they set sail to Bikini (100 miles from Roderick), Sorry's grandfather Jojen also went to pray.
To find out what happens, read the book!
I give this book a 9 out of 10 because it has a lot of action and it also gives facts about the atomic bomb. I liked the part when Sorry and his uncle see an old shark that left Sorry's uncle with a scar.