Alice's Adventures in Wonderland
Written by Lewis Carroll
Illustrated by Camille Rose Garcia
Reviewed by Trason D. (age 8)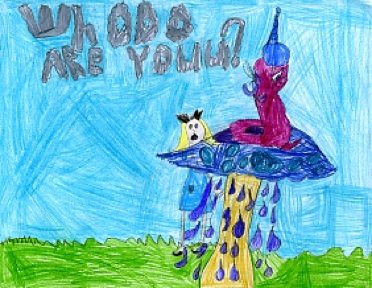 This is the original story of Alice and Wonderland. It was written by Lewis Carol in 1865. It begins with the classic story of a girl named Alice Kinsley. She was reading her sister's book when she saw a white rabbit. She follows him and ends up falling down a well. She eats a cake that makes her small and she enters a place called Wonderland. In Wonderland she meets a series of weird characters. She meets a caterpillar that was very wise but crazy and a Red Queen who gets furious at people and says "off their heads!" One day the queen was missing her tarts and becomes furious. Who stole the queen's tarts and how does Alice get home? Read this book and find out.
I loved the book because it is very interesting and funny. For example, the Red Queen looks very weird and Alice gets very mad at the Mad Hatter because his sayings don't make sense. There are many differences in this original story compared to other stories about Alice in Wonderland. For example, Alice falls down a well and not a hole and the Caterpillar is a girl in this story. I liked Alice because she is smart and risky. She tricks the queen by pretending to be someone else. My favorite part was when I read about the caterpillar. She said, "Whooo are youuu?" and was colored blue and purple. She reminds me of one of my friends because the caterpillar bosses Alice around and my friend sometimes tries to boss me around. I liked the illustrations because the pictures are amazing and colorful. The illustrations swoop down and it looks like rain is falling from everything. The Author, Lewis Carol, is very talented and also has a great imagination. I liked his book a lot.
I recommend this book to kids 10 years of age and older because this book can be scary and hard to read. I also recommend this to kids who like fantasies and classic books.