Ray and Me
Written by Dan Gutman
Reviewed by Joel V. (age 10)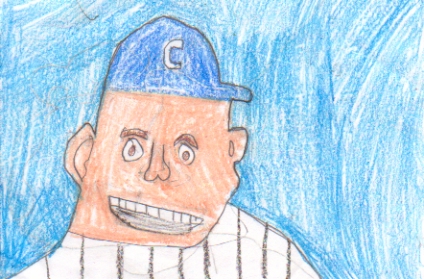 Stosh is playing baseball. He gets hit in the head and is knocked out cold. Someone calls 911. Stosh is lucky to survive. He learns about a major league player who got hit in the head by a baseball and died. His name was Ray Champman. Stosh travels back in time to try to save Ray Champman by bring him a batting helmet. Read about Stosh's travel back in time and learn about some baseball greats.
I thought this book was interesting to read. I learned more about how Ray Champman died. I learned how major league baseball protected their players. This book reminded me of myself because I like to play baseball I got hit in the head by a baseball, but I was not hurt because I was wearing a baseball helmet.
This book is part of a series by Dan Gutman. Stosh is always in the book and he can go back into time and visit any baseball player he wants as long as he uses an old baseball card. I really liked the illustrations in this book, too.
I would recommend this book to anyone who is in 2-6th grade and loves baseball.