The Chicken Doesn't Skate
Written by Gordon Korman
Reviewed by Cole B. (age 9)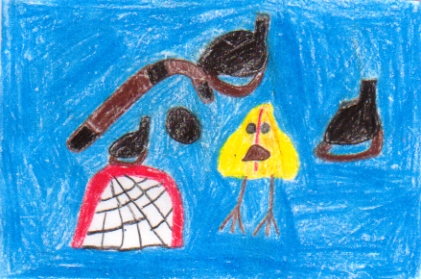 The Chicken Doesn't Skate is about a class, a hockey team, and a chicken. The chicken is the mascot for the hockey team, a pet for the class, and a specimen for Milo Neal. Milo is a science geek. His dad's name is Victor Neal, a famous scientist. The chicken is a lucky charm for the hockey team. Before the chicken, Henrietta came, the team was 0 and 5. She comes to all the games and they start to win. They get so good they go to the National Championship against the Canadians. The hockey team's captain, Adam Lurie, is at Zack Gustafson's house. His little brother is throwing cars at his computer. Adam wants him on the team as goalie. Do they win the game? You will have to read the book to find out.
I liked the book because it was well described. Everyday at school the author would tell you what they were doing and when they are at all the hockey games they are telling what the players are doing. The book made me wonder about how a whole class can like one chicken. It comes in as a science project for Milo. Milo keeps on telling him that it's not a pet for the class, but they bring the chicken home anyway.
My favorite part is when the hockey team plays against the Canadians. It has play-by-play action, explains everything that they are doing. The character that is interesting is Zack. He wants to be friends with Milo. Milo's dad works in Hollywood. Zack writes screenplays, so he wants to meet Milo's father. He wants to give him the screen plays so he can give them to Hollywood.
I recommend this book to any people who like sports, action, and drama all in one book. The place is at school. The characters are all alike because they all love the chicken.