Captain's Command
Written by Anna Myers
Reviewed by Samantha K. (age 9)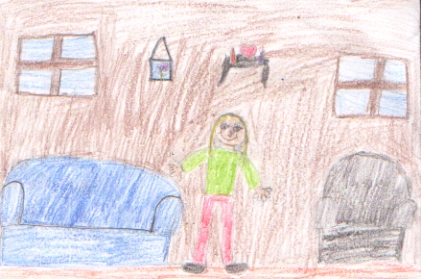 Gail is a girl that loves dogs. Her father is in the war. She was worried that he would never come home. She went to Big Mama's house. Her uncle, Ned, is blind and it's Gail's job to protect him. Gail left with her sisters to take their dog, Captain, to a dog parade. A girl with her dog came up and said they would never win. Captain barked at her and bit her dress and tore it. It was Christmas and Gail's dad hadn't come home. They found out he had died. The next day Ned ran away. Big Mama went looking for him. Captain also went out looking for him and led Gail to him. Ned didn't want to get up and go home, so Gail took a sled and pulled him home. Read the book to see how Ned and Captain get along after this.
I think the book was good. I liked reading about how Captain helped to save Ned's life. Gail is a caring little girl who loves her dad. She promised her dad she would take care of Ned, and she does.
My favorite part was when Captain helped to save Ned's life. Ned was freezing and dying, when Gail helped pull him to his house. Another of my favorites was when Captain was protecting Gail and her sisters from the little girl that was teasing them.
One of the things I liked best about this book is the characters. Captain is a brave and kind dog. He always listens to Gail. Gail was also a fun character. She trusted Captain, and she cared about everyone. They made a great team.
Gail and her dog, Captain, have a lot in common. They both helped Ned. Gail gave Captain to Ned to help him get around. Gail, Big Mama, Mama, and Ned all have a different way of thinking. Timmy and Mary Nell both like dogs, and they love the outdoors.
I recommend this book to a lot of kids who like reading dog stories. This book explains how Captain and Gail help her uncle and always help each other.