Cupid Doesn't Flip Hamburgers
Written by Debbie and Marcia Thorton Jones Dadey
Illustrated by John Steven Gurney
Reviewed by Christian C. (age 8)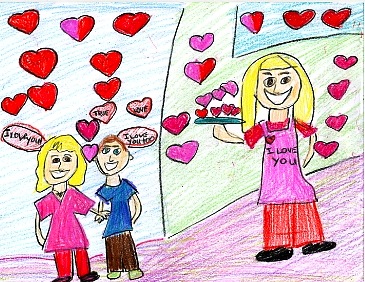 This story is about the students at Baily City School. There is something really strange with Mrs. Rosenbloom, the new cafeteria cook. The student's think she is acting like a cupid. For example, she loves Eddie's red hair and makes hearts out of everything. Eddie finds out that Mrs. Rosenbloom's heart shaped cookies are putting the school under a spell. The love spell is making the girls fight over the boys. What does Eddie do to break the spell? Read this book to find out!
I really liked this book because it's about love and relationships. For example, after eating Mrs. Rosenbloom's cookies Carrie falls in love with Eddie and Mrs. Jeepers falls in love with principal Davis. My favorite part is when the spell is broken because it seems like magic. The illustrations are funny and give the reader a good sense of what's going on. Baily School Kids is part of a series. The books are very similar but the grown ups are always different and kind of weird. This book is perfect to read during Valentine's week.
I recommend this book to all readers who like fantasy books. I also recommend this book for children ages 8 and up because it has a lot to do with love and relationships. Have fun reading this book!