Fantastic Mr. Fox
Written by Roald Dahl
Reviewed by Daniel A. (age 7)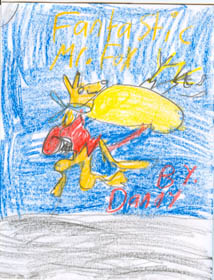 The book I read is Fantastic Mr. Fox. It is about this fox who does all these crazy things; like get chickens from a farmer and apple juice from another. In the middle, his family has to dig with another couple of families to hide from the farmers. All three farmers try to get them but they are too fast. Then they found land in the ground and Mr. Fox and another dad made a hole in the ground to hide.
My favorite character was the Fantastic Mr. Fox. He was my favorite character because he did crazy stuff. Like the time he went out to hunt the food from the farmers who had weapons, which was crazy because the farmers could have shot him. The pictures in the book were good because they had lots of details. The pictures help tell the story. I thought the book was good because it made me laugh. It was a funny book and had lots of action. I saw the movie, but the book was much better because the movie didn't follow the plot in the book.
If you like funny things and action you should read this book. I recommend this book to second and third grade students.