Amulet-The Stonekeeper
Written by Kazu Kibuishi
Reviewed by Ashley H. (age 9)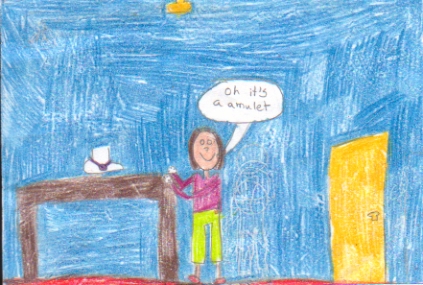 Amulet is about Emily, Navin and their mother. Emily and Navin's dad dies in car accident. Two years later they move into their great grandfather's house.Their great grandfather used to be a puzzle maker but he disappeared. One day when Emily was cleaning a room, she found a amulet that actually talked to her! That night Emily and her mom heard a thumping noise from the basement. Emily, Navin and their mom all go downstairs. All of a sudden their mom gets sucked up by a weird creature! . With the amulet's help and power Emily and Navin must try to save their mother before time runs out. You will have to read this book to find out if and how they do it.
I like the book because it is interesting and a little freaky. It is a different kind of book because it has a lot of creatures that can hurt Emily and Navin. I like the way that they try to outwit the monsters.
My favorite part of the book was when Emily found the amulet because when she put it on it glowed. The amulet helps them make good choices in finding their mom. Emily is my favorite character. She is courageus because she needs to make many choices. She is curious because after she finds the amulet, she wants to know what to do to save her mom. She caring because she had to take care of Navin besides having to rescue Mom.
This book is a graphic novel. The reason I picked the book is because of the many drawings. Graphic novels are books with lots of pictures, kind of like comic books. I would recommend this book to 4-6 grade boys and girls. It is exciting and has a surprise ending. I think it would interest readers Something is always happening on every page. I think you would want to read it too.