The Boxcar Children: The Mystery on the Ice
Written by Gertrude Chandler Warner
Illustrated by Charles Tang
Reviewed by John K. (age 9)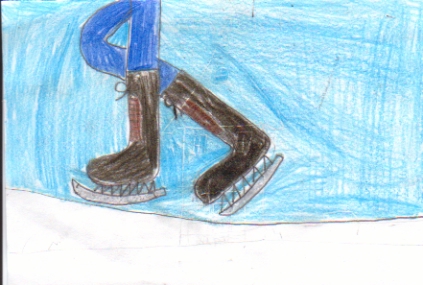 This story has as its main characters the Aldens---Henry, Jessie, Violet, and Benny, They live with their grandfather. They are excited about a figure skating group coming to town. The children want to see it . A blizzard happens at the same time. In the middle of this, the house next door is robbed. Everybody thinks the ice skaters are responsible. The Boxcar Children are working on solving the mystery. Read the story to find out who stole the jewels.
Henry, Jessie, Violet, and Benny reminded me of my family during the blizzard. When my family and I were snowed in during a blizzard, it was fun. We want out and played in the snow. We also had to shovel snow to be able to get out of our house.
This book is part of the Boxcar Children series. All of these books have mysteries to be solved. I felt like I was solving the mystery with the Aldens. I kept wondering who stole the jewels and how did they did it.
My favorite character was the "mystery man". When he was talking to Janet O' Shea, she looked worried. I wondered who he was. It added to the mystery of the book.
I recommend this book to all kids who like adventure and mystery. It kept me wanting to keep reading it. I know kids will enjoy it just as I did.