Nightmare Hour
Written by R. L. Stine
Illustrated by Cliff Nielson
Reviewed by Francisco R. (age 12)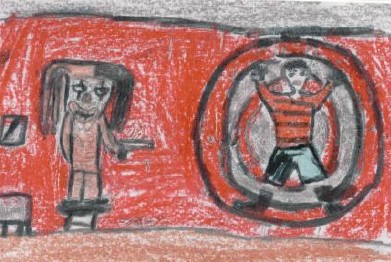 Have you ever been scared to death? Were you scared of your own book? This book will give you the chills and shivers while you read this book of horror stories.
This book is about horror. It's about many deaths of children and adults. The story I read in this book is about a five year old boy and at his birthday party a clown was hired to come and entertain the boys and girls. The children were all enjoying the clown until the clown told the boy he could die laughing.
The reason I read this book is that the cover is terrifying. My favorite part is when the boy became a clown. He now could find out what it was really like to be a clown. The story I read, "Afraid of Clowns" is about a boy who had a birthday party. I really liked this story and the whole book of ten horror stories. Each story had a good ending to the story. I mean each was scary in a way that I would think it should be and because I like horror stories, I liked the way they thrilled me. If you like to find out what happens when your mom is away, check out this book and see.
I think other kids ages 10 through 13 would like reading this book especially if you like reading really scary stories. The stories in this book are all different and some of the words are difficult to read.