Among the Hidden
Written by Margaret Haddix
Illustrated by Cliff Nielsen
Reviewed by Amber C. (age 12)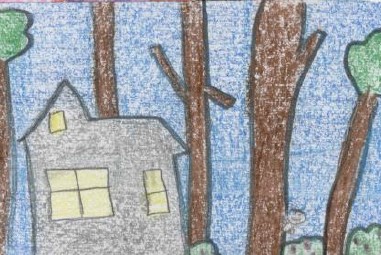 What would you do if you had to stay hidden most of your life? What would you do if you couldn't go outside or even look out windows to be sure nobody saw you? Well Luke had to do that in this book!
Luke is a third child and has to stay hidden to be sure he won't get caught by the population police. When he sees a girl's face in a window next door, he wants to find out whose face it belongs to. When he meets the person, they become friends and nobody knows about it. The girl, Jen, has this plan to help them be free and not hide all the time. But Luke doesn't think it's a good idea. Will Luke help Jen out?
I thought it was an amazing book! I never wanted to put the book down. In parts of the book you never know if Luke and Jen will get caught or even die! It made me want to keep reading. Luke reminds me of when I get picked on by my brother because his brothers picked him on. While I was reading, I kept wondering if Luke and Jen would get caught. I think that Luke gained confidence in himself because he started going to Jen's house more often.
I would recommend this book to fifth and sixth graders and eleven to thirteen years of age because I think they would like the suspense in this book based on the character of their age.