Stargirl
Written by Jerry Spinelli
Reviewed by Julian H. (age 12)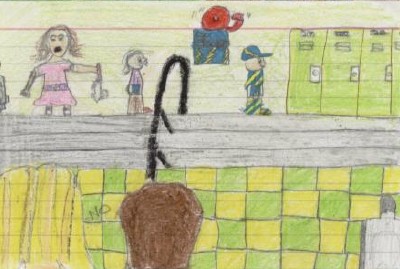 This book is about a girl who goes to a new school after being home schooled for nine years. Stargirl is not like most girls. She dresses odd and does strange things: she plays a ukulele, dances out in the rain, and keeps a pet rat with her at all times. There is a boy named Leo who likes her from the first time he saw her, but doesn't know it yet. Leo hosts a show called "HOT SEAT." He put Stargirl on after everyone was steaming mad at her. She was a cheerleader until she was kicked off after cheering for the other team.
I think this book is suspenseful and thrilling because Stargirl's personality and spirit makes her unlike the other kids at school. My favorite part is when a girl named Hillary Kimble threatens to drop and kill Stargirl's pet rat, but you'll have to read it and find out the rest and why. Once you pick up this book you will not be able to put it down because of the excitement and thrill of wondering what will happen next. This was my first book that I have ever read by Jerry Spinelli. I thought it was one of the best books I have ever read because he made the characters come to life. I could see a perfect image of what the characters looked like in my head.
I recommend this 186-page book to people who are more of their own thinkers and to teens or new kids in school. You'll love how she brings her school spirit back and falls in love with Leo.