Heat
Written by Mike Lupica
Reviewed by Zoe B. (age 12)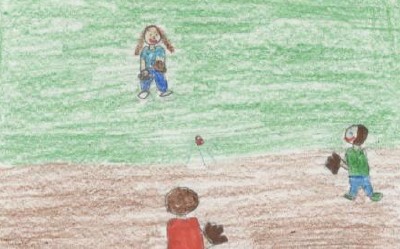 I really like the book Heat. I think you will too. Heat is about a twelve-year- old boy in his last year of little league named Michael Arroyo. He can throw a baseball 80 miles per hour. But after Micheal's father leaves him and his seventeen-year-old brother Carlos, they have to avoid the social services (or they'll be separated in foster care), get money, and play baseball. But when Micheal may not be able to play baseball any more because some people think think that hes not really 12, Micheal and Carlos have to find Micheal's birth certificate to prove his age while avoiding the social services. Will Micheal be able to play baseball any more? Read this awesome book to find out.
Heat has a lot of really good parts, but if I had to chose a favorite part I'd have to say... the baseball games and the end, but I can't tell you those because it wouldn't be a surprise. Carlos reminds me of my friend Courtney because they both work hard and try to do a good job at what they do. I like all the parts with Ellie in them because she is the only girl and is an awesome baseball player. There are a lot of parts with suspense in Heat like when Mr. Gibbs talks to Micheal.
I recommend this book to baseball fans from the ages of 10-14. It's a great book with a thrilling story line and 220 pages. This book has lots of twists and turns and will leave you surprised.