Flying Solo
Written by Ralph Fletcher
Reviewed by Courtney M. (age 12)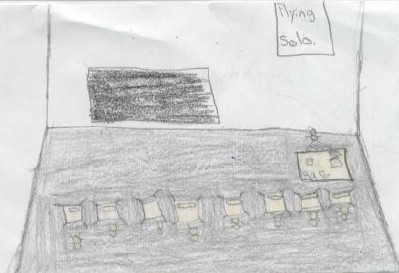 Flying solo is a great book about a good a good looking teacher who was absent and the sub didn't show. The students decide to run the class by themselves. Does the class get into trouble, or do they work it all out?
My favorite part in the book is when Sean hit his head and Missy bandaged it all up just like her dad would have done. My favorite character is Rachel because she is the character that I can mostly interact with. I can understand why Rachel stops talking because Tommy feathers passed away in his sleep. Well, I would do the same. I like when the class always tell how they feel and what they really want to have happen. I think it is cute when Sean wants to walk Rachel home because it's romantic.
I recommend this book for someone who is good at reading because there can be some twists. If you like books that make you laugh out loud, then this is the book for you.