Adeline Falling Star
Written by Mary Pope Osborne
Reviewed by Taylor T. (age 10)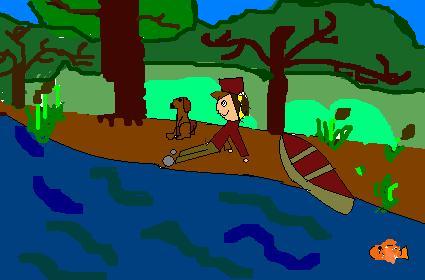 Just three months ago, a young Indian girl named Adeline had a perfect life. Then, her mother died from a raid on her Indian tribe. Her Pa had to go on a business trip to find the Pathfinder. The Pathfinder was a person who leads or took someone through a path or told him or her where he to go. Her Pa left her at his cousins' house and it made Adeline very angry. When the Pathfinder came to the town, Adeline was very excited. She knew her father was not there with him. She was very upset. She ran away and looked for her father. Instead Adeline found a canoe and a smart dog. She took a journey—she traveled the Mississippi river to see if her father was at her mother's old tribe. While that was happening, she was having difficulty feeding the dog and herself. Hopefully, she won't starve; she will survive. You have to read the book to find out if she made it or not.
I like this book because I like sad books. They usually turn into happy ones. I also like mysterious books. My favorite part is when her Pa finds her, lays her in a cabin bed, and he said they could keep the dog, which made her happy. This book was very interesting to read. Out of these characters, I am most like one of Adeline's cousins. She did not want Adeline to run, but she trusted her.
I recommend this book 10 years and up, because Adeline deals with serious issues.