The Burning (Guardians of Ga'Hoole)
Written by Kathryn Lasky
Reviewed by Will L. (age 11)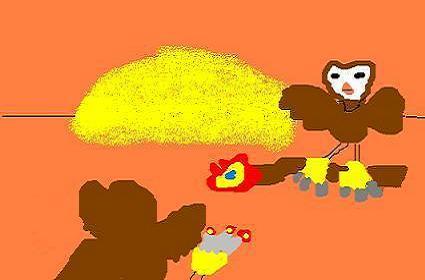 Guardians of Ga'hoole, #6, The Burning, was about a group of owls from the Great Ga'hoole Tree, mainly Soren, Gylfie, Eglantine, Twilight, Digger, Otulissa, Martin, and Ruby. These owls went to the Northern Lands to train in battle and to recruit The Frost Beaks for a war against the Pure Ones, led by Soren's brother, Kludd. Kludd was also known as Metal Beak because he wore a metal mask to hide that he had half of his face torn completely off in a battle. Kludd had a mate named Nyra who was one of the survivors of the perpetual Battle of Fire and Ice, or The Burning.
On the way to recruiting The Frost Beaks, they met many helpful friends like Moss, Cleve, and Twilla. These owls helped the guardians of the Great Ga'hoole Tree make it through some tough times. Moss helped the group recruit The Frost Beaks. Cleve was a member of the health division of The Burning. Twilla helped Gylfie get out of a tough spot by tricking the pirates that snatched her.
This was a very interesting and adventuresome book with outcomes you won't expect. I have always loved books about animals. If you ask me, I must say that this is one of the best books I have ever read. This book was a "page turner". I think this book taught me that there is more than one way to look at animals. It makes you look at them as if they can care for themselves, like humans can. This book gave the owls human qualities, which made it even more interesting.
I recommend this book to boys and girls who are 10 or older because there is violence and a bit of bloodshed. This book is full of adventure and excitement for anyone who reads it. I enjoyed reading this book so much and I hope you do too.