Unicorn School-The Treasure Hunt
Written by Linda Chapman
Illustrated by Linda Chapman
Reviewed by Katerina W. (age 7)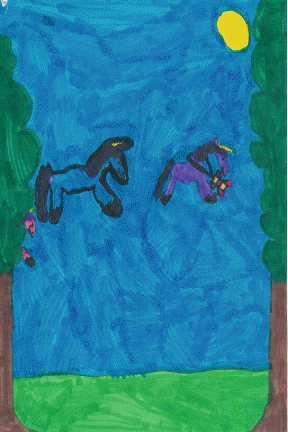 The book Unicorn School the Treasure Hunt is about four unicorns who go on a treasure hunt. Troy, one of the unicorns starts being bossy. Willow, another unicorn taught him that having fun is more important than winning.
I liked this book because I like treasure hunts. The unicorns had to find six different treasures in this book.
I liked Willow the best because she is very, very, nice.
This book reminds me of when I went on a treasure hunt and I wanted to get all the chocolate hidden around. I buddied up with a friend just like the unicorns did in the book.
I recommend this book to readers who like treasure hunts and unicorns. Kids in grades 2 through high school would like this book.