Girls Rule
Written by Phyllis Reynolds Naylor
Reviewed by Bonnie H. (age 8)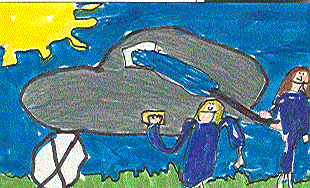 My book is Girls Rule. It is like a war between the boys and the girls. The boys' names are Wally, Jake, Josh, and Peter, and the girls' names are Caroline, Beth, and Eddie. They are all trying to earn enough money to be in the parade. Caroline really, really wants to be smack-dab in the middle of the pretty Strawberry Queen's float. Will they earn enough money?
My opinion of this book is I really like it. I really like Caroline in this story because she's really sassy. At the end of this story Caroline changed – she became sweet. This book is part of a series. It is different from other series because it is like war between boys and girls.
I think second and third grade girls would like to read Girls Rule! If you want to know why – because it's Girls Rule! I mean, I really like this book. One reason is because how they try to raise the money is really funny. I think other people would think it's funny, too. I think people would like the part where they all get to be in the parade.