The Hudson River
Written by Bernard Waber
Illustrated by Melissa Whitcraft
Reviewed by Nick B (age 8)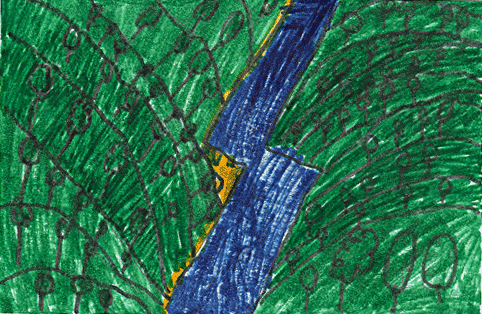 If you like nature you should read the Hudson River because rivers are parts of nature. First we go back to the 1600s and see the explorers who sailed up the Hudson River. Then we see the logging companies who changed the river and general electric companies who started the PCBs that almost destroyed the rivers wildlife. And then we head to New York City. In this book you will find almost everything you need to know about the Hudson River.
As I read the Hudson River it puts me in a nature mood because I make a picture in my mind and it makes me think of nature. I think the history is interesting because we're discovering the new land the explorers who sailed up it like, Henry Hudson and Estvan Gomaz and Giovanni da Verrazano, never knew about it before. If I could go back in time I'd want to be Henry Hudson. My favorite part is when the doe dips her head to drink the water in Lake Teer because it is so peaceful.
I would recommend this book to people who like nature because rivers are part of nature. I would recommend this book to anyone.