I Want to be Much More Bigger Like You
Written by Lauren Child
Reviewed by Naomi M. (age 7)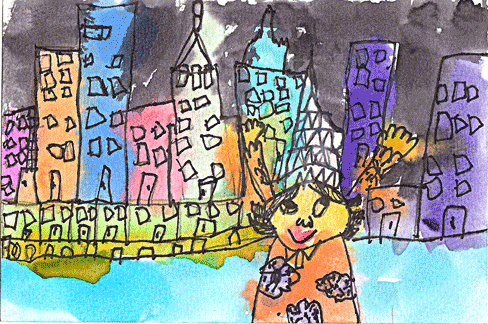 Have you ever heard of someone that wants to be big so badly they tried to think themselves big? Well, Lola has. Lola is a little girl with a problem. Lola is little. But she really wants to ride the scary Super Duper Loopy Loopy ride. You have to be big to go on the ride. Lola tries to think herself big. She thinks she's like a skyscraper and a sunflower. But that doesn't work! So Charlie (her brother) tries to cheer Lola up by telling Lola that there are loads of fun rides like the Chug-a-Bugs. But that doesn't work either. She goes to the fair with her brother Charlie and his friend Mark...well you have you read the rest to find out.
I adored I Want to be Much More Bigger Like You very much. Its illustrations were unique. They were unique because there was a photograph in the background and a drawing on top. My favorite part was when Charlie tried to cheer Lola up by telling Lola good things about being little - like you get stories read to you. Charlie reminds me of my brothers because they're nice to me and if I'm ever sad, they cheer me up. They make me feel better. I think Charlie makes Lola feel better too. This book is also good because it teaches that you should enjoy being little while it lasts.
If you're the tiniest child in your family, then you will adore this book. It will teach you that being tiny is good. If you like quirky characters and unique illustrations, you will enjoy this book very much.