Capitan Arerio
Written by Pablo Bernasconi
Illustrated by Pablo Bernasconi
Reviewed by Colin P. (age 8)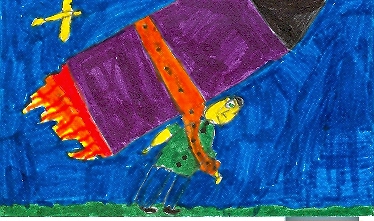 Have you ever known someone who tried to make a machine but it didn't work? Well Captain Arserio did. He made a lot of machines and they didn't work. But he kept on making them. But when he made them something funny happened. Read this book to find out what.
I like Captain Arserio because his inventions took him on a wild adventure! He did funny stuff and looked funny. This story reminded me of when I was 6 and made lots of crafts like a doorbell. I think this book was cool because it had unique drawings with pictures of real metal and stuff.
I recommend this book to anyone who likes to make inventions!