Mr. Nonsense
Written by Roger Hargreaves
Illustrated by Roger Hargreaves
Reviewed by Seoha K (age 7)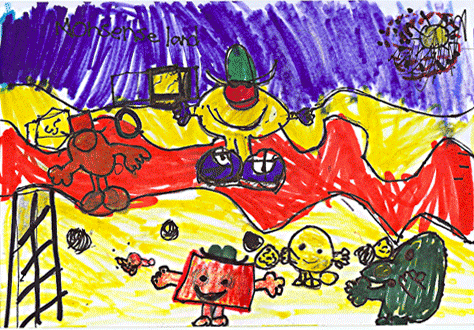 Mr. Nonsense is so hilarious! He lives in a tree. Mr. Nonsense likes to eat oatmeal on toast. Do you know where he sleeps every night? In a rowboat! Have you ever seen yellow snow in any land? If you do! It'll be Nonsenseland. If you read this book you'll see how he's full of nonsense, hilarious and wacky! If you know Mr. Nonsense you'll know who's Mr. Silly! Because Mr. Nonsense and Mr. Silly play together in the book.
Have you ever seen a person who is crazy, silly, funny, wacky, and likes to eat oatmeal on toast? It's MR. NONSENSE! I like the part when MR. NONSENSE cooked oatmeal on sandwiches, but he didn't like it. So, he cooked oatmeal on toast and he tasted it. Mmm! It was really delicious! So, he cooked oatmeal on toast almost every day because he liked it so much!! I liked the part where MR. NONSENSE made a square snowball to play snowfight with MR. SILLY. I liked those two parts because they're silly, and having a square snowball looks like fun. I think MR. NONSENSE is connected with MR. SILLY because MR. NONSENSE is crazy, hilarious, and full of nonsense, and MR. SILLY is also hilarious, crazy, and full of nonsense!!
I recommend this book to someone who likes full of nonsense things and silly things and crazy things because this book is about how full of nonsense the main character is! And you should read the other books in the Mr. series too, because you can sometimes see who connects with who. If you like Mr. Nonsense then you should read Mr. Silly because they're similar.