Mr. Strong
Written by Roger Hargreaves
Illustrated by Roger Hargreaves
Reviewed by Nathaniel C (age 7)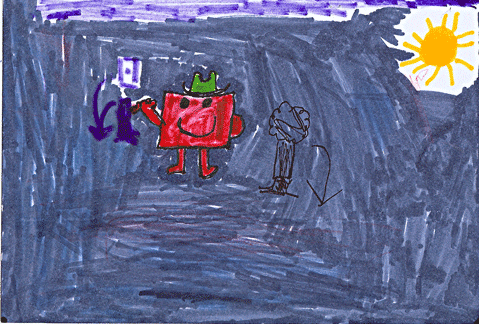 Have you ever met someone very strong? I have it's Mr. Strong. Mr. Strong always breaks stuff when he doesn't look where he's going. If you want to know he what breaks, you have to read Mr. Strong. Mr. Strong is so strong that he can carry a farm. He also can carry a big boat full of water in it. He can break a tree with no hands, only a bump. He can also break a truck without hitting it. He also can break a door. The reader has to find out how does he get so strong.
I liked this book because it was hilarious! My favorite part is when Mr. Strong makes a mistake. He breaks a truck. He cracked a tree. He also breaks a door. He crashed into the door after he put his eggs onto the table. He fell down on the kitchen door. Mr. Strong looks like he is not strong but he is. You have to read the book to see if he is strong enough to do all these things. When I ate two bowls of eggs I got really strong like Mr. Strong.
I recommend this book to people that love funny books. If you like the Stinky Cheese Man then you should like little Miss/ Mr. books.