Little Miss Giggles
Written by Roger Hargreaves
Illustrated by Roger Hargreaves
Reviewed by Samantha G (age 7)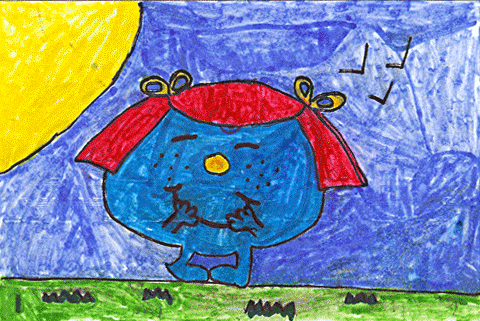 Do you know that Little Miss Giggles can giggle in her sleep? And even can giggle while she is eating? Little Miss Giggles lives in a cottage, it is called the Chuckle Cottage. Little Miss Giggles is saying that she is miserable because she lost her giggle. She had woken up giggling as usual. She had giggled her way down the stairs as usual. And she had giggled while she was having breakfast as usual! Then it just disappeared. Read this book to find out if she will get her giggle back, or be miserable the rest of her life!
My favorite part is when Little Miss Giggles is walking in the woods and realizes she lost her giggle. It is very silly because she does not realize until the last moment. She stopped walking. At first, she thought it was odd to not be laughing. As she was walking, a tear came down her cheek. I thought that part was really sad, but when Mr. Happy comes along it turns out to be much better! It reminds me of the book Mr. Happy because Mr. Happy is always happy. He also giggles once in a while just like Little Miss Giggles! Little Miss Giggles is sweet, cute, and a very giggly girl. I also think Little Miss Giggles is very, very strange because she giggles while eating!
I recommend this book for people who like weird and crazy things! This book includes a lot of the other characters from this series. If you like Mr. Topsy or Mr. Funny, you will love Little Miss Giggles!