Harry the Dirty Dog
Written by Gene Zion
Illustrated by Margaret Bloy Graham
Reviewed by Kelly E. (age 6) & Jean Luc R. (age 7)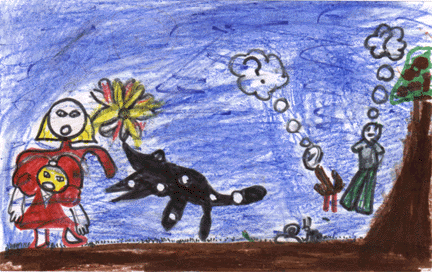 Harry is a dog that is white with black spots. He is a dog that doesn't like baths. So one day he ran away when he heard the tub water running. He got dirty and he played at the railroad and he got even dirtier! He slid down a coal chute and changed to a black dog with white spots. When Harry got to his house, he crawled through the fence. The family didn't recognize him, so he tried his old clever tricks. The family still didn't recognize him, so he ran upstairs to the bath. Read this book to find out what happens. The "big idea" is that he knows that home is more important than getting dirty. Don?t you think so?
Our favorite part was when Harry slid down a coal chute. It reminded us of when we slid down the slide. It makes us wonder what it would be like to slide down a coal chute. The words match the pictures well. The illustrator drew lots of things that happened to Harry and his family. Our favorite character was Harry because he was funny when he got dirty.
We recommend this book to people with dogs and the people that like dogs because it has a dog in it. We also recommend this book to kindergartners, first graders, and second graders.