Nancy Drew - Scream for Ice Cream
Written by Carolyn Keene
Illustrated by Macky Pamintuan
Reviewed by Brittany P. (age 10)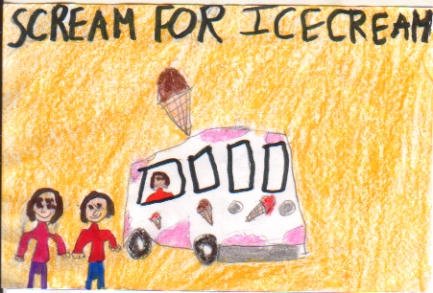 Jim and Barry's ice cream place was having a contest to come up with a new flavor. Nancy, Bess, and George went to sign up. They thought of Clue-Berry as a good flavor. They went to the store to buy ingredients. On the way to the store, they saw Kendra. She said,"Try my new flavor." They asked Kendra "What kind is it?" She said, "Chock Full of Chocolate." "It looks good!" said the girls. They tried it. It was good. Deidre was there and she had her own website. Kendra said, "Don't you dare put my secret recipe on your web site." Kendra went to the store. She had her secret recipe in her backpack. She looked in her backpack. She could not find it. She thought someone must have stolen it. The next day was Mayor Strong's birthday. Bess wanted to know what they are having to eat at the party. " They're having something called Caesar Salad. The main course is salmon and asparagus. For dessert they are having "Chock Full Of Chocolate." Kendra said "How did my recipe get on there?" Read the story to find out how Kendra's recipe was served at the birthday party.
I like this book because it was very interesting when Kendra lost her recipe. She couldn't figure out how it turned up at the birthday party. I didn't know either. It was exciting to find out.
This book belongs to the Nancy Drew series. It is similar to the other books because all of the books have a certain mystery to them. I like reading books which have kids my age solving mysteries.
I had mixed feelings about this book. First I was happy because Jim and Barry were having a contest. Then I felt sad because Kendra lost her secret recipe. Then I felt happy again because they found out who stole the recipe.
I like the characters Kendra, Bess, Nancy, and George. They have a fun time figuring out mysteries. They can always figure them out before the time runs out. They remind me of the Boxcar Children. They solve mysteries also.
I would recommend this book to 3rd and 4th graders because it is an easy book to read. This book has a mystery to it and the contest is fun to read about.