Puppies in the Pantry
Written by Ben M. Baglio
Illustrated by Shelagh McNicholas
Reviewed by Jacob B. (age 9)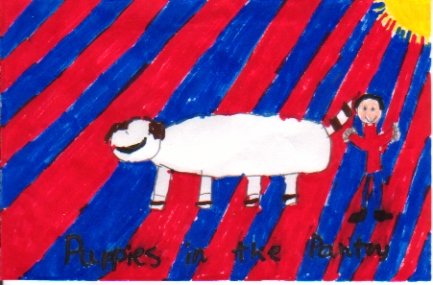 A picture crew comes to town and the star Charley, a labrador is missing. Dr. Thomas thought he saw her, but it was a different dog. Mandy asks a farmer if he saw Charley. He said that one of his sheep is missing. They thought it might be Charley who took the sheep. They go back to town and ask everybody if they had seen her. Nobody had. They put up posters of her. Nobody had seen Charley. They went to the Animal Ark which is a place for animals without homes. They found her. They went back to Charley's bed. You'll have to read the book to find out what they found.
My favorite part was when Charley was lost and Mandy and her Mom looked for her. I like mystery stories and animal stories. This story has both mystery and animals. It was fun to solve the mystery with Mandy and her Mom. This book is part of a series. The series has all the same people but different animals. They all have a mystery to solve.
I felt very worried when Charley was missing. If Charley were my dog I'd be scared that I would never see her again. I was very happy when they found her at the Animal Ark.
This story reminds me of my dog Cassie when she had puppies. She ran away too, and we had to go find her. We were happy to have found her also. I would recommend this book to kids. It would be best for 4th grade and younger. They usually like puppies and there are a lot of puppies in this book because Mandy and her mom are the owners of the Animal Ark.