Paddington Bear Takes the Air
Written by Michael Bond
Illustrated by Peggy Fortnum
Reviewed by Aubrey S. (age 8)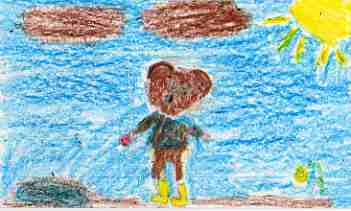 Paddington Bear Takes the Air is an excellent book. Paddington is a funny bear. In this story, Paddington drops his tooth down the waste disposal. Paddington wasn't very happy then. When he went to the dentist, Mrs. Bird told him to open his choppers. Paddington thought that choppers were tigers' teeth. After Mrs. Bird looked into Paddington's mouth, she said he had a deep hole. Paddington thought he would fall into the hole in his mouth. If you like funny characters, you should read Paddington Bear books.
I think Paddington is an awesome book because it is hilarious and interesting. My favorite part was when Paddington did humorous dances. I think Paddington's brothers and sister are very amusing because they bring Paddington their dad's clothes for him to wear. He reminds me of my funny friend Emma. This is because she is sneaky and humorous.
I recommend this book to people who like story-telling books because Paddington's book is more of a story book than a mystery or a fairy tale. I think Mrs. Pabley, a teacher, would like this book because she loves bears. This story might interest readers because there is a surprise at the ending. Kids who are 7-10 will probably find it more interesting.