Da Wild, da Crazy, da Vinci
Written by Jon Scieszka
Illustrated by Adam McCauley
Reviewed by Rick B. (age 9)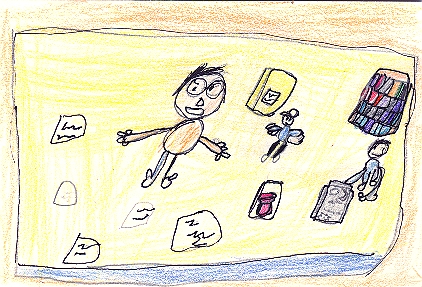 Fred, Sam, and Joe go back in time to the days of Leonardo da Vinci. The Time Warp Trio think they have found The Book. Sam, Fred, and Joe had to work for some soldiers. The Time Warp Trio had to make an invention. They were trying to find out how The Book worked. Can they do this and get back home safe and sound? Read this book to find out.
I like this book because it is funny. I thought it was funny when the boys were at Sam's house and they were talking about toilets. This book reminds me of Knights of the Kitchen Table, the same author wrote the book and the same characters are in both books. The illustrations helped me to see the story in my mind.
I think people who like funny stories should read this book.