The Comeback Kids: Two Minute Drill
Written by Mike Lupica
Reviewed by Eddie G. (age 9)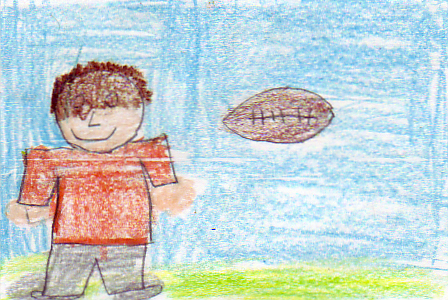 In The Comeback Kids, Scott (aka "The Brain") is having a tough time at in sixth grade. One day a bully, Jimmy, pushes him and the school star quarterback, Chris, protects him and convinces him to try out for the football team. The two opposites become close friends. Does Scott get a spot on the team or does he ruin their friendship? Jimmy and Scott were fighting throughout the whole book. It made me wonder if they would also become friends. The author reminds me to always do your best and keep trying!
The Comeback Kids is the best book I have ever read! It reminds me of the time I tried out for travel soccer. I ran my heart out, just like Scott. My favorite part was when the bully pushed Scott and the quarterback protects him. I kept on wondering if he was going to make the team and play or ruin his friendship with the Chris. The book was very exciting especially when their team plays their first game. I'd be shocked if you don't like this book. It has so much action. For example, the team was loosing by a touchdown with a minute left in a very important game. The author make me picture how fired up and confident each player was.
I recommend this book because you never know what is going to happen next! The story makes you continuously ask yourself questions. This book is for kids who like sports, and are ages 9-12. I'll guarantee that you'd love how almost every part of the book is action packed!