Jim & Me
Written by Dan Gutman
Reviewed by Ben H. (age 10)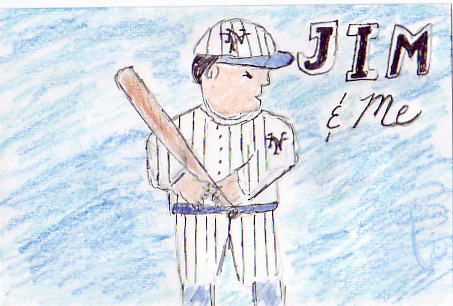 Jim & Me is an awesome book about two archenemies named Bobby Fuller and the main character Joe Stoshack. Bobby wants Joe to take him back in time to meet legendary Jim Thorpe. Joe is the only one that can do it because he has a special power to travel through time with baseball cards. Finally, when they are back in 1913 some amazing things happen. Joe and Bobby meet the Giants baseball team Jim Thorpe played for them. They meet hall of famers and experience the thrill of baseball. What will happen in this awesome, page-turning adventure?
Jim & Me is a fabulous book, I love it because of its vivid descriptions and its suspense. You will wonder on every page what will happen next. My favorite part is when they finally get to 1913. I did not think it would happen, because time travel is impossible. Jim & Me is the newest book in the baseball card adventure series. I have read more in the series but this is definitely one of the best ones. because you learn some interesting facts about Jim Thorpe. When I started this book, I never heard of Jim Thorpe. The other books in the series are about big name stars like Babe Ruth and Jackie Robinson. You do not have to read the books in order. Jim & Me has a surprise ending you find out some unbelievable things about Bobby. This book actually made my jaw drop!
I recommend Jim & Me to people who love sports from ages 10 to 13 if you enjoy this book check out some of the other books in the baseball card adventure series. They are all good, but this one is a grand slam!