Changes for Molly
Written by Valerie Tripp
Illustrated by Nick Backes
Reviewed by Genesis C. (age 11)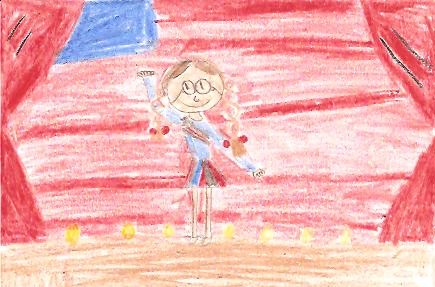 My story is about Molly McIntire, who is ten years old in 1944. A terrible thing happened. There was a war, called World War II. Molly's dad went to the war. Molly was going to dance school. She does tap dancing. She went to dance school with her friends Linda and Susan. When Molly came home, her mom was telling Molly and her older sister Jill, her brothers Brad and Ricky to come to the living room. Mrs. McIntire got a letter from their dad. This letter said, "My orders have been changed. I'm coming back to the States to take care of the wounded soldiers there. I'm working at the Veterans' Hospital in Jefferson, so I'll be able to live at home. Of course no one can tell me for sure exactly when I'll get home but right now it looks like I might be there by the 18th of March. Maybe in time for lunch." Molly's dad's letter is so long, I can't write the whole thing here.
When Mr. McIntire got home, Molly was showing him how sophisticated she is. Molly wants to be Miss Victory but she got sick. She could not be Miss Victory and see her dad. But when her dad got home, Molly jumped out of bed and hugged her dad.
I love this book because it shows me that you should believe in yourself, the way Molly, the main character, does. The book is great. My favorite part is when Molly sees her dad for the very first time, hugging. Hugs make me very happy. The book has a lot of details about the history of World War II, and I like that because it shows the background of the story and history of the United States.
So I recommend for you to read Changes for Molly. You should, because this book has information on the back page that is true historical information about World War II. This book is a great. I recommend this book to my teacher Miss Jenny, my librarian. I hope you read this book, Changes for Molly. Good luck!