Best Friends Forever?
Written by Angela Shelf Medearis
Reviewed by Brittany K. (age 11)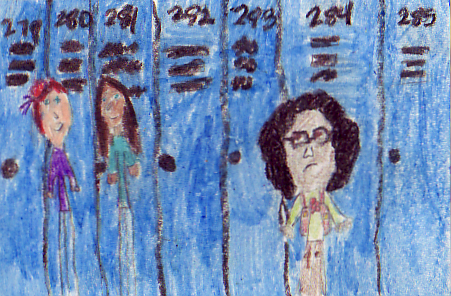 Have you ever been jealous at a friend because they found someone to replace you? Or have you ever felt tired and overwhelmed at school because you couldn't sleep? In this book Best Friends Forever? By Angela Shelf Medearis, that is Sharie Johnson's life. Since her baby sister came along, Sharie can't sleep and finds herself being blamed for everything. On the other hand, she shares a bedroom which means NO privacy. At school, Sharie's life isn't better. Her grades are dropping and she has an even worse problem; her best friend Hannah has found a new friend to replace her. Sharie now feels invisible by the second. Will Sharie ever get her privacy? Will Sharie win Hannah's friendship back? You just have to read this excellent book to find out.
I like Sharie, the main character in this book. But, I also feel bad for her. A trait that describes Sharie is jealous. Sharie is so upset when her friend Hannah runs off with the new girl. Hannah was not popular and was always nice to Sharie before. But, when Hannah becomes popular, she forgets all about Sharie. Sharie had a friend but now she doesn't. I would not want to feel like that. I really loved this book because it had a thoughtful lesson, "Don't judge a book by its cover". In this book, Sharie learns this message because when Hannah becomes friends with the new girl, Sharie judges her as stuck up and mean. Sharie thought that she abandoned her. This is a great lesson for boys and girls alike. You should not always judge people by what you see. You should get to know the person.
Sharie reminds me of myself because like her, my friend found a new friend to replace me. This happened in the middle of my 5th grade year. They were partners for the whole time. I got mad because I thought my friend dumped me. I felt left out like Sharie. This is why Sharie reminds me of myself. As I kept reading further into the book, I felt upset for Sharie. Her parents never seem to listen to her side of the story. They always blame her for everything. For example, when Marcy, Sharie's younger sister rips up her history homework, Sharie gets blamed. Her parents say it is her fault because she left it on the ground and didn't pick it up. I don't think it was Sharie's fault at all.
I would recommend this book for kids who sometimes feel jealous and are the age of 10 and up. I think it will help kids when they are going through a tough time being jealous like Sharie. It will help them understand their feelings. I feel it is for people over 10 because they can understand the true meaning of jealousy. Younger kids don't understand jealousy as much. They are often mad at one minute and then friends again quickly. When you read this book, Best Friends Forever?, you won't want to put it down and you will learn an important lesson too.