Rising Starts: The 10 Best Young Players in the NHL
Written by Mike Brehm
Reviewed by Michael F. (age 9)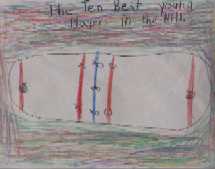 This book is all about Hockey players and goalies. It tells about their lives and how good they are. One of the players that the book tells about is Chris Pronger, he is also the captain. It tells about Olaf Kolzig who is also very good and won the Stanley cup.
This book reminds me of myself because I play Hockey and hope to be a Hockey player someday. I like to read about the Hockey players because it inspires me to be like them. I really like to read books about Hockey and the people that play the sport.
If you like hockey, you might want to read this book.