Cam Jansen and the Mystery of the Missing Dinosaur Bones
Written by David A. Adler
Illustrated by Susana Natti
Reviewed by Amelia W. (age 8)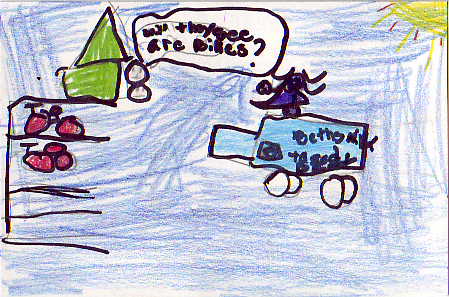 Cam and Eric like to solve mysteries, but they need your help. They're on a class trip to the museum when they discover that 3 dinosaur bones are missing. Can Cam and her photographic memory solve the case of the missing dinosaur bones or will they be missing forever?
I thought that this book was awesome because it is funny when Eric, by accident, bought a dog whistle and did not know it was a dog whistle. I liked the part when Cam and Eric were at the milkman's house spying on him. They left their bikes outside where the milkman could see them. I was thinking, will the milkman pass them and discover Cam and Eric spying? It was very suspenseful and exciting.
I recommend this book to people who like mysteries. There are many suspects which makes the book interesting and fun.