Cam Jansen and the Mystery of the Carnival prize
Written by David Adler
Reviewed by Adam J. (age 8)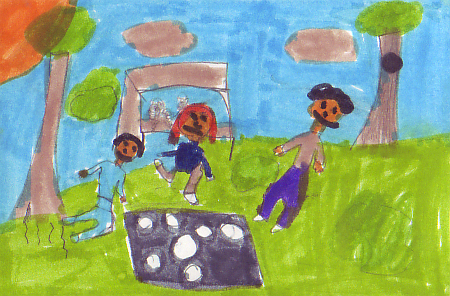 Cam Jansen and the Mystery of the Carnival Prize is about two kids who keep winning the dime toss game at the school carnival. Detective Cam Jansen and her sidekick friend, Eric, are trying to figure out who keeps winning and how when it is supposed to be the hardest game at the fair. Cam uses her photographic memory to keep clues in her head as they try to solve the mystery.
My favorite part of the book was when Cam, Eric, and Freddy found out who did it. I was suspicious of the person they found guilty because he acted oddly. I think Cam is a good detective because she has a photographic memory so she always remembers important clues. It's cool how she just closes her eyes and says "click" when she wants to take a picture in her mind.
I recommend this book for students in second grade to the beginning of fourth grade. It is fun to solve the mystery with Cam and her friends. If you like Cam Jansen books you will like Cam Jansen and the Mystery of the Carnival Prize.