The Curse of the Mummy's Tomb
Written by R. L. Stine
Reviewed by Joseph P. (age 9)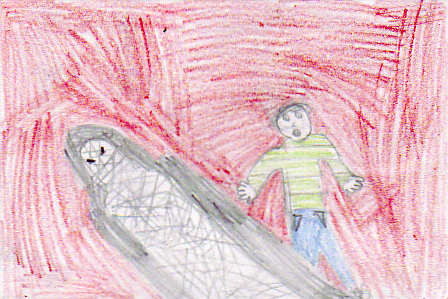 When a kid named Gabe goes to Egypt to visit his Uncle Ben and his cousin Sari. One day Uncle Ben takes them to see the sphinx and he strongly tells them not to go in the pyramid. It was very dangerous, but Gabe and his cousin made the wrong choice! Oh, and by the way, Sari and Gabe do not get along when they have to stick to together their arguing get's them in big trouble. Uncle Ben warned them about the pyramid, but he did not tell them about the mummy!
I liked this book because it had many mysterious things happen in the pyramid that you really would not expect. I can totally relate with Gabe because I have a sister too, and we have some really tough times. I love how the author described Gabe's cousin Sari made him feel. The author said that he was a volcano and he was going to blow his top he was so mad at his cousin that he didn't now what to do with her! This book is filled with great descriptions like that. I love how he described the burning sun and how Gabe was so hot and mad that his parents didn't bring any water with them.
I recommend this book to kids 8-10 and kids that love mysterious things. Trust me you have to read this book it will make you scream! It is the best book in the whole wide world!!!