Clementine
Written by Sara Pennypacker
Illustrated by Marla Frazee
Reviewed by Emalee O. (age 10)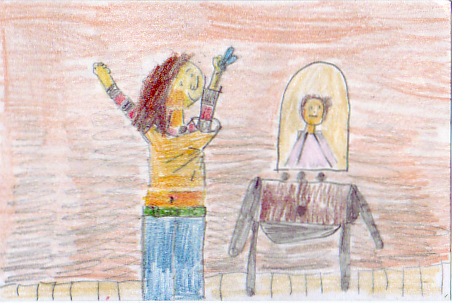 Clementine has a huge imagination that gets her in trouble. Clementine and her family live in a hotel because her Dad is the manager. Her best friend is named Margaret and she is a year older, so Clementine has some trouble following her rules. One day Margret went to the bathroom so Clementine followed to find Margret crying on the floor with only a half of a head of hair. Clementine cut off the rest of Margret's hair and got caught. To make Margret feel better, Clementine decided to cut off her own hair! She also decided to help her dad with the great pigeon war and thought her parents did not want her any more. At the end she has a big surprise with lots of things, including moisturizer.
I really like this book because it was funny. My favorite part is when Clementine's mom started to scrub her head because Margaret colored Clementine's hair green. She scrubbed so hard, Clementine thought she had a big hole in her head. If you read this book I promise you will laugh your head off! Clementine is an artist and so is her mom. My mom is an artist also, and they are just alike in many different ways. They don't like to get dressed up, and definitely do not wear make up! I think both moms could have painted the pictures in the book. The illustrations are funny and simple, so I think they would have had so much fun and done their best work!
I recommend this book to grades 3 and up. Kids in or under 2nd grade might have trouble because some words are difficult and can be a little confusing. This story happens in the city, so if you live in the city you could probably relate to it. Clementine will open up your imagination!