The Indian in the Cupboard
Written by Lynne Reid Banks
Illustrated by Brok Cole
Reviewed by Sarah M. (age 10)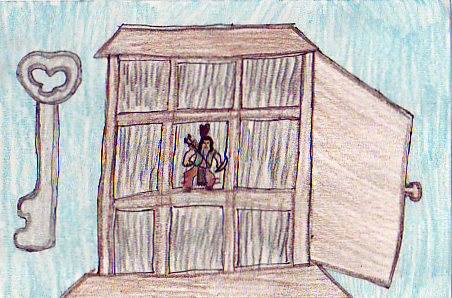 Have you ever had a courageous Indian and a magic cupboard? If you haven't then you're missing out. On Omri's birthday, his parents get him an aged cupboard and his friend Patrick finds him a toy Indian that suits him well. Nobody knows what that little Indian and cupboard can do together until one day Omri puts the Indian in the cupboard and turns the key. What happens? Well the Indian, Little Bear comes to life. The book The Indian in the Cupboard by Lynne Reid Banks is all about the many adventures Omri and his Indian friend, Little Bear, have together. They build a miniature Indian campsite, deal with a mini cowboy who has a gun, escape from a mouse who is trying to eat Little Bear and develop an invincible friendship along the way. If you want to learn, more about Omri and Little Bear's exciting and sometimes-risky adventures together then read this book. It will turn the key and open your imagination.
I enjoyed reading The Indian in the Cupboard because the author really explained what the toy Indian, Little Bear, looked like. When he came to life, she says, "The Indian gave a fantastic leap into the air. His black hair flew and the fringes on his leggings fluttered. His knife, raised above his head, flashed." Her words helped me visualize Little Bear jumping, with long, straight black hair flying behind him with a knife in one hand. I love the author, Lynne Reid Banks', writing style because she incorporates some writing from Omri's point of view and some from Little Bear's point of view. This helps add humor and explain things when I have questions. Also, it lets me know that's there are two sides to a story.
I think Little Bear is fierce and would stand up to anyone. I believe this because when Omri's friend Patrick put the little cowboy in the cupboard, he had a gun. Little bear stood up to him and started to fight. With a bow and arrow in one hand and a fist of the other, Little Bear did not let Omri down. He wanted to stop the cowboys shooting. I also think that Omri is over protective. He wouldn't let Patrick put the cowboy in the cupboard. Patrick did it anyway. But, Omri wasn't happy. He was protective of the cupboard s powers. Also, when the cowboy came to life, Omri was so scared seeing Little Bear and the cowboy fighting that he took Little Bear away. That is why I think he is protective.
I recommend this book to people who are good at solving mysteries and are ready for a big shocker. If you read this book, you should have a great imagination and love adventures because you will be pulled into the story and think all of the adventures and shocking events are happening to you.