Amber Brown is Green with Envy
Written by Paula Danziger
Illustrated by Tony Ross
Reviewed by Brooke F. (age 10)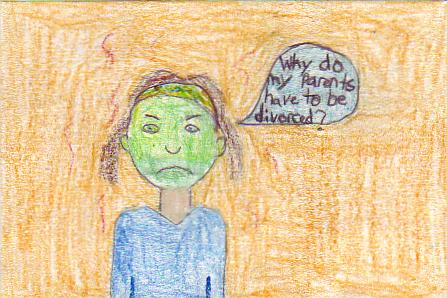 If your parents are divorced or if you have wondered what that feels like, then Amber Brown is Green with Envy is the book for you. This is a realistic fiction story about 8-year-old Amber whose parents are divorced. She wishes she had married parents like all her friends because she is tired of being different from all her friends. Amber wants the best for her parents but she also wants to fit in, so she wants her mom to get married again. In this book, Amber gets mad at her mom, then at her dad and then she gets mad at herself. Read Amber Brown is Green with Envy to find out how Amber solves her problem.
I liked this book because Amber is a jokester and plays funny tricks on her friends. One of the tricks was so funny that it made Amber fall down laughing! I like reading about funny people who play funny tricks.
My favorite part of the book was when Amber was at school and she suddenly got upset about how she might be moving. Amber and her principle had licorice and soda to make Amber feel better. I liked the principle in this book because he was very nice to Amber when she was upset about moving. He seemed to understand her.
This book is one of many Amber Brown books. In Amber Brown books the author talks about how Amber solves her problems and how she faces them. On the cover of the book, it shows what Amber feels like in the book, like green with envy.
Amber Brown reminds me of myself because we both know how it feels to get our parents separated. I can understand how she feels. However, unlike Amber I know that it is still OK to love both parents.
I think this book is mostly for girls because the main character is a girl. It could also be a book for girls and boys because the problem the main character has is really the parents' problem but the main character has to deal with it too.