Dear Max
Written by Sally Grindley
Illustrated by Tony Ross
Reviewed by Stephanie C. (age 9)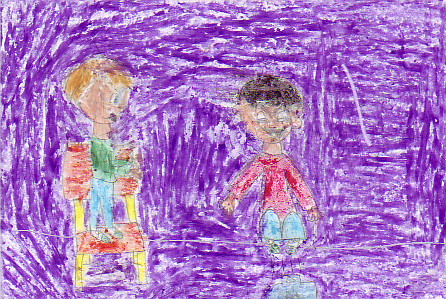 If you get picked on by someone, have lost someone really close to you, or if you are a little short for your age, then Dear Max by Sally Grindley is the perfect book for you! This realistic fiction books shows how 9 year-old Max from England, interacts with his favorite author, D.J. Lucas. Max talks about his problems, shares his personal business, and draws pictures on his letters that show you how Max sees the world.
There are many reasons why I enjoyed this book. I really liked this book because the way Max over-exaggerates the things he complains about is funny. This book is very much like the other books I read by Sally Gindley because on each page there is something funny.
Dear Max is part of a series (Dear Max, Bravo Max, and Relax Max). This series is special because the books are written in letter form. It also has Max's "kid" handwriting. Dear Max is similar to the other Max books because they are all a series of letters but also each book adds new characters. There are illustrations in the books. I like the illustrations because his drawings show me how Max sees the world. Dear Max is a really good book to read.
I recommend Dear Max to kids in 4th and 5th grades because you need to understand the humor in Max uses. Some of the situations he writes about might be confusing to a younger student and a bit boring for middle school students. I also recommend this to people who enjoy reading diaries and journals.